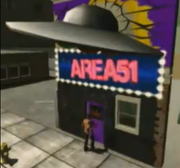 Area 51 is an establishment in the video game No More Heroes. It is a retailer of apparel and accessories in Santa Destroy, and is run by Mask Do UH. As the game progresses, more items are put in stock including jeans, T-shirts, belts and sunglasses. Clothes bought from this store can later be accessed through the Closet option at Motel "NO MORE HEROES". During the gap between No More Heroes and No More Heroes 2: Desperate Struggle, Area 51 is destroyed, although it is unclear how or why. In Desperate Struggle, Mask Do UH reemerges as the manager of Airport 51, which carries a wider variety of items than Area 51.
Ad blocker interference detected!
Wikia is a free-to-use site that makes money from advertising. We have a modified experience for viewers using ad blockers

Wikia is not accessible if you've made further modifications. Remove the custom ad blocker rule(s) and the page will load as expected.