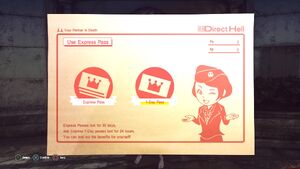 Direct Hell Express is a service in Let It Die offered by Direct Hell Insurance Company in exchange for real-world money. Express Passes are active for 30 days once purchased, and Express 1-Day passes are active for 24 hours. Express 1-Day passes can also be found while traversing the Tower of Barbs. Players have the option of automatic renewal each month.
Direct Hell Express members enjoy the following benefits:
Ad blocker interference detected!
Wikia is a free-to-use site that makes money from advertising. We have a modified experience for viewers using ad blockers

Wikia is not accessible if you've made further modifications. Remove the custom ad blocker rule(s) and the page will load as expected.