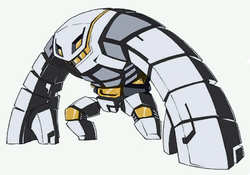 Glaston 3 is a mecha in the video game No More Heroes. It is a white-colored aerial battle Glaston and part of the in-game anime series Pure White Lover Bizarre Jelly, where it is piloted by Cranberry, a member of the titular group. Glaston 3's signature attack is referred to as "Cranberry Chocolate Sundae."
Trading cards
Edit
Glaston 3 appears on two trading cards in the Design Materials set of No More Heroes. These are Trading Card No. 120 and Trading Card No. 123.
Ad blocker interference detected!
Wikia is a free-to-use site that makes money from advertising. We have a modified experience for viewers using ad blockers

Wikia is not accessible if you've made further modifications. Remove the custom ad blocker rule(s) and the page will load as expected.