Liberation Maiden
Talk

0
982pages on
this wiki
Liberation Maiden


Developer(s)
Grasshopper Manufacture
Publisher(s)
Level 5
Designer(s)
Goichi Suda
Platform(s)
Nintendo 3DS, iOS
Release date
JP May 31, 2012
EU October 4, 2012
US October 25, 2012
Genre(s)
Shoot-em-up
Media
Nintendo 3DS Card, Download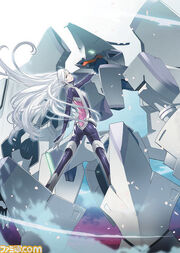 Liberation Maiden (解放少女, Kaihō Shōjo) is a shooter game developed for Nintendo 3DS by Grasshopper Manufacture. It was published as part of the Guild01 compilation on May 31, 2012 in Japan, and was later released in Europe as a Nintendo 3DS eShop downloadable title on October 4, 2012 and in the US on October 25, 2012. The game was later released internationally on iOS on March 7, 2013.
Liberation Maiden is set 100 years in the future. High school student Shoko Ozora is the second president of New Japan, as well as the daughter of the assassinated first president. When a foreign country seals off the source of the country's energy (Shinjuu) and invades New Japan, President Shoko fights back with the use of a giant mecha named Kaihoki Kamui ("Liberation Machine").
There are animated sequences in this game done by the Studio BONES, creators of Wolf's Rain and Eureka Seven.
The 3DS touchpad is used to control Shoko's mech.
Guild01 is the video game compilation in which Liberation Maiden appears, containing four complete games helmed by four distinct scenario writers. In addition to Goichi Suda's Liberation Maiden, these are Yoshiyuki Hirai's Rental Bukiya de Omasse, Yoot Saito's Air Porter and Yasumi Matsuno's Crimson Shroud. The compilation's publisher, Level-5, also handled development on Crimson Shroud, while Vivarium Inc. served as developer for Air Porter. In late 2012 Crimson Shroud and Air Porter both received an international release through the 3DS eShop.
An eShop-only follow-up, Guild02, was released in Japan in March 2013. Games include Kaz Ayabe's Attack of the Friday Monsters! A Tokyo Tale, Keiji Inafune's Bugs vs. Tanks and Kazuya Asano and Takemaru Abiko's The Starship Damrey. Owners of The Starship Damrey can obtain an additional chapter if they also own Liberation Maiden or any of the other Guild01 games. The Starship Damrey received a US and European release in May 2013, and there are currently plans to localise the other two games at some point during 2013.