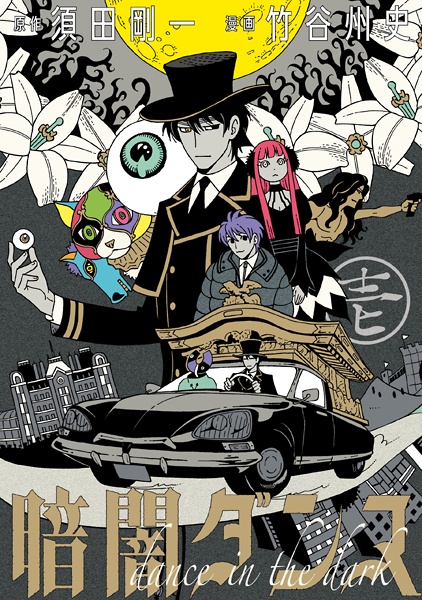 Kurayami Magazine is a 2015-2016 manga written by Goichi Suda and drawn by Syuji Takeya. It is based off of Kurayami, Suda's original game concept that EA forced him to change into Shadows of the DAMNED. The first volume was released in Japan in 2016, and an English release has been confirmed by Suda over Instagram/Twitter. It was serialized in the manga magazine Comic Beam.
Although no English translation exists yet, it appears that Kurayami Dance contains references to Suda's past works. The first is a story arc involving a hotel known as the Union Hotel, though whether it has any relation to the hotel in killer7 is not known. More mysteriously, however, is the fact that the protagonist looks like he has a Silver Eye in his right eye socket.
Manga contains two volumes and story is finished.
In the 2016 version of The Silver Case, Akira anachronistically finds the 2015 issue of Comic Beam with a Kurayami Dance cover at the Cauliflower building.
Manga contains a lot of references to old ghm games, on pages you can find characters like Tokio Morishima, Edo, Travis Touchdown and members of k7.
Ad blocker interference detected!
Wikia is a free-to-use site that makes money from advertising. We have a modified experience for viewers using ad blockers

Wikia is not accessible if you've made further modifications. Remove the custom ad blocker rule(s) and the page will load as expected.