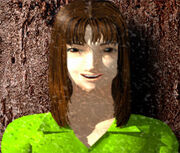 'Kyouko Kazan is a character in [[Moonlight Syndrome. She is Ryo Kazan's sister and lover. She dated Sumio Tohba but loved Ryo more. Because of this, Sumio makes a contract with Mithra which causes Kyoko's death, causing the events of the game. After her death, her head is kept in a paper bag by Ryo. Her head also appears being carried by Ryo in The Silver Case.
Ad blocker interference detected!
Wikia is a free-to-use site that makes money from advertising. We have a modified experience for viewers using ad blockers

Wikia is not accessible if you've made further modifications. Remove the custom ad blocker rule(s) and the page will load as expected.