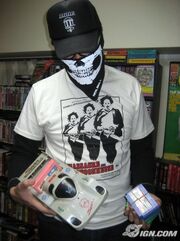 Takeshi Uechi,[1] better known as Mask de Uh, is a Japanese man who writes gaming columns for Weekly Famitsu. Previously Uechi worked for Rockstar Games, and was a fan of the Fire Pro Wrestling, which Goichi Suda contributed to while working for Human Entertainment, before meeting Suda. Uechi provides the voice of a fictionalized version of himself in the video game No More Heroes, and he designed many of the t-shirts seen in the game.
References
Edit
External links
Edit
Ad blocker interference detected!
Wikia is a free-to-use site that makes money from advertising. We have a modified experience for viewers using ad blockers

Wikia is not accessible if you've made further modifications. Remove the custom ad blocker rule(s) and the page will load as expected.