This article or section contains information about a video game or product unreleased outside Japan.
If you are fluent in Japanese or are otherwise knowledgeable about this subject, please help expand this article.

Shirubaa Jiken 25 Ku (シルバー事件25区; "Silver Incident 25th Section") is an episodic mobile game composed of several scenarios, each focusing on a different character of The Silver Case's plot. The gameplay resembles the original game,except there was no 3D aspect to it and ran like most games released at the same time and on the same services did, however with Silver Case 25 wards, there was only very little interference from the player, though it included a few choice-selection "battle" scenes in Correctness #03 Boys Don't Cry with a leveling up system.
Goichi Suda and Grasshopper Manufacture reprised their development roles. The game released only in Japan on i-mode and Yahoo! Keitai mobile phones. During his "Punk's Not Dead" speech at the 2006 Game Developer's Conference, Suda announced that the game would be remade on Nintendo DS for worldwide release, but like The Silver Case's DS release, this was cancelled as Suda desired to remake the games instead.
Currently, Suda has said that if the 2016 HD rerelease of The Silver Case sells well, 25 Ward will subsequently be updated and localized. In The Art of Grasshopper Manufacture, Suda said that part of his motivation for remaking 25 Ward was so that it could actually be played, as it was only released for now-obsolete services and Suda himself would like to play it again.
◆Correctness◆ -凶悪犯罪課編-
Edit
Correctness is the story-point featuring Shiroyabu Mokutaroh and KuroYanagi(Black Willow) teamed up with Uehara, working at the high-degree violent crime divison. Correctness also features Sumio Kodai and Sakura Natsume from the first game and a few parts of the chapters, for example the #00prototype is mainly Sakura Natsume's adventure.
01 new world order
: Shiroyabu Mokutaroh, Sakaki and Black Willow investigate a crime scene where a woman named "Kuromizawa" was murdered in her apartment. shocking developments ensue.
02 good looking guy
: Shiroyabu Mokutaroh and Black willow visit the morgue. A man named "Kamijo" was found dead. It is believed he ingested a key vital to the Kamui case. Kamijo is believed to have committed suicide by poisoning his coffee after reciting an eerie speech about how he wanted to vanish and die while sitting at a cafe.
03 boys don't cry
: Shiroyabu is now acting alone ever since being declared missing after events in GLG. He tries to withdraw funds from his account but his card cannot be used. He is being targeted by assassins and ends up running into a tunnel where more adverse conditions await. Black Willow is promoted to work on this case all on her own and uses this to her advantage in pursuit of a certain man.
04Transmitter digital man
: Sumio Kodai and Sakura Natsume investigate the death of Kuromizawa himself while facing his own internal demons. Sakura Natsume accompanies him. Shiroyabu Mokutaroh has gone missing. Sumio seems to have gone slightly hostile and antisocial.
05 electride
: -unavailable. All 5th chapters were pulled early..-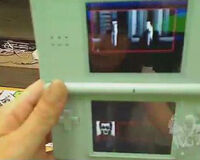 ◆Match Maker◆ -地域調整課編-
Edit
Match maker is the story-point featuring Tsuki and Osato.
"01 underground theater
"02 quiet cradle
"03 about nighthawk
"04 the lunar orbit
"05 moon over 25
◆Placebo◆ -モリシマトキオ編-
Edit
Placebo is the continuation of the story-point of the same name from the first game featuring Tokio Morishima. Morishima will bear witness to the demise of the 25 wards.
*01 NAGARE(Flow)
*02 TIGIRI(Contract)
*03 YOGORE(Filth)
*04 SIZUKU(Drop)
*05 MISOGI(Cleansing Ritual)
(-Shiroyabu makes an appearance in this chapter.)
External links
Edit
Official
Official website (Website down. Liveware's website went down after the fall of paid/service mobile phones. Liveware was chosen as the main delivery source for this game after the contract between Genki mobile and Grasshopper came to an end.)
News
Ad blocker interference detected!
Wikia is a free-to-use site that makes money from advertising. We have a modified experience for viewers using ad blockers

Wikia is not accessible if you've made further modifications. Remove the custom ad blocker rule(s) and the page will load as expected.