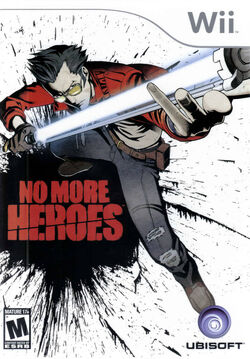 This article is a list of all staff members credited for the development of the video game No More Heroes.
Principle staff
Edit
Goichi Suda – director, writer, game designer
Yasuhiro Wada – executive producer
Yoshirou Kimura – producer
Satoshi Kawakami – lead programmer
Noboru Matsuzaki – lead battle programmer
Takumi Yamada – system programmer
Toru Hironaka – battle programmer
Tetsuya Nakazawa – stage programmer, cutscene programmer
Masaaki Hayashi – NPC programmer
Takahiro Hoshiya – assistant programmer
Hidefumi Nakahara – assistant programmer
Yasuto Fukami – assistant programmer
Namiko Nakao – assistant programmer
Kazuhisa Watanabe – program adviser
Akihiko Ishizaka – lead artist
Katsuyoshi Fukamachi – senior environment artist
Takashi Kasahara – senior character artist
Junya Iwata – character artist
Yu Teshirogi – character artist
Takashi Nyui – environment artist
Kumiko Mukasa – environment artist
Sho Chijimatsu – environment artist
Tatsuji Fujita – environment artist
Kees Gajentaan – environment artist
Syuhei Banya – environment artist
Takefumi Ishikawa – animator
Hideyuki Masui – animator
Yusuke Ito – animator
Masaru Kobayashi – animator
Nijiko Kanazawa – animator
Tadayuki Nomaru – 2D graphic artist
Akira Ueda – guest 2D graphic artist
Licca Kurokawa – guest 2D graphic artist
Masafumi Takada – lead sound design, composer
Jun Fukuda – sound design, composer
Shinya Tanaka – sound design
Toshihiro Fujikawa – assistant director
Nobutaka Ichiki – assistant director
Ren Yamazaki – planner
Ryoko Tanifuji – planner
Mitsuru Yamakawa – planner
Toshiki Niidome – planner
Naoko Mori – PR
Masahiro Yuki – manual production
Yūsuke Kozaki – character designer
Shigeto Koyama – mechanic designer
Okama – Pure White Lover Bizarre Jelly designer
Kondo Kojilow – title logo designer
Mask de Uh – main T-shirts designer
Hiromasa Inoue – cinematic producer, cinematic director
Masaya Ono – cinematic producer
Satoru Sasaki – cinematic CG director
Kris Zimmerman Salter – casting, voice over recording director
Friendship casting
Edit
Voice recordings
Edit
Salami Studios Audio Post Production
Edit
Devon Bowman – dialogue mixer
Jonathan Abelardo – assistant dialogue mixer
Regina Gibson-Broome – studio manager
Tad Horie – voice recording supervisor (Katalyst Lab Inc.)
Soundelux Design Music Group – additional voice over recording
William "Chip" Reaman – voice over manager
Erica Mehallo – voice over coordinator
Justin Langley – recording engineer
T's music Limited Company – voice data editing
Marvelous Entertainment Inc.
Edit
Kei Hayashi – assistant producer
Tomosato Kaneko – sales team
Ito Hideaki – sales team
Takuya Negishi – sales team
Toshihiro Takashima – promotion team
Tomomi Kiyono – promotion team
Nobuhiko Nakamura – promotion team
Yuki Yamagishi – publicity team
Yumi Mori – publicity team
Mariko Nishida – publicity team
Tohru Mase – publicity team
Hiromu Takita – publicity team
Kyo Kosoya – license team
Takuhiro Goto – license team
Louis Lamarre – license team
Hisashi Urano – localization team
Takeo Higashino – localization team
Tami Otto – localization team
Software Manual
Edit
Toshiki Niidome – software manual editing
Joe Ishihara – software manual editing
Masataka Nomura – software manual editing
Atsushi Kurosawa – software manual editing
Kunihiko Taniwaki – additional artist
Chang Soo Lee – additional artist
Kazuhiro Kawamoto – additional artist
Seiji Watanabe – additional artist
Koichi Takatsuki – additional artist
Mayu Hosawa – additional artist
Hideyasu Ishihara – additional artist
Sketch Inc. – additional artist
Cinematics
Edit
Kiyoshi Okuyama – cinematic storyboard artist
SHIROGUMI INC
Edit
Katsumi Suzuki – cinematic CG artist
Kunihiko Suzuki – cinematic CG artist
Tatsuyo Asai – cinematic CG artist
Takayuki Okubo – cinematic CG artist
Chihiro Hashimoto – cinematic CG artist
Kengo Suzuki – cinematic CG artist
Kenichi Inoue – cinematic CG artist
Tatsuya Zaizen – cinematic CG artist
Hirotatsu Ishida – cinematic CG artist
Ryota Saito – cinematic CG artist
Kazuhisa Nishimura – cinematic CG artist
Tamio Kimura – cinematic CG artist
Kazuaki Daimon – cinematic CG artist
Michiko Muto – cinematic CG artist
Yutaka Ishida – cinematic CG artist
Hidefumi Takeda – cinematic CG artist
Hiromichi Hidaka – cinematic CG artist
Kazuhiro Suganuma – cinematic CG artist
Ryo Higuchi – voice recording
Yuki Mizuno – voice recording
Mayu Omata – voice recording
Dynamo Pictures, Inc.
Edit
Ken Ueno – motion capture operator
Yuji Tanaguchi – motion capture operator
Motohiko Yoshimura – motion capture operator
Akihiro Matsui – motion capture operator
Kenya Miki – motion capture operator
Hiroki Inazuka – motion capture operator
Kosuke Chiba – motion capture studio manager
Yoko Tabata – motion capture studio manager
Kentaro Shimazu – motion capture actor (New Angency Co., Ltd.)
Tsubasa Akimoto – motion capture actor (ROM Sports Commission Inc.)
Yuya Nawata – motion capture actor (JAPAN ACTION ENTERPRISE CO., LTD.)
Jun Yamashita – motion capture actor (RIDEOUT LLP)
Yumiko Okuda – motion capture actor (stardus21)
Promotion movie
Edit
Tomonori Kubokawa – promotion movie producer
Atsushi Inoue – promotion movie director
Satoshi Mochizuki – promotion movie animator
Yasuyuki Bandai – promotion movie animator
Yutaka Kawamata – promotion movie animator
Dirk Benedict – lead script editor
Michael Quick – additional editing
Triball Inc. – key visual
Mao Torii – design
Yuka Shintani – flash
Dr. Peace song recordings
Edit
The virgin child makes her wish without feeling anything
Edit
Goichi Suda – lyrics
Masafumi Takada – composer
Masatoshi Moriwaki – arrangement (WandSideMusic)
Kan Andrew Hashimoto – translation
Brad Holmes – vocal performance
Yuusaku Shirotani – trumpet
Daisuke Makita – trombone
Watanabe Fire – saxophone
Toshihiro Hayano – recording, mixing engineering (TOSHIHIRO HAYANO, Delfi Sound Inc.)
Special song cooperation
Edit
Heavenly Star
Edit
Genki Rockets – performance
Tetsuya Mizuguchi – writer
Kenji Tamai – writer
Kaori Fukano – writer
Yusuke Tanaka – writer
Tetsuya Mizuguchi – producer
Kenji Tamai – producer
Sony Music Publishing (Japan) Inc. – publisher
Pole to Win Co., Ltd.
Sarugakucho Inc.
Special cooperation
Edit
Spike Co, Ltd.
Delfi Sound Inc.
Q Entertainment Inc.
Undersell ltd.
Enterbrain, Inc.
Kikuzakari Sake Brewery Co. Ltd
bar plastic model
Sony Music Publishing Inc.
Special thanks
Edit
Haruki Nakayama
Mitsutoshi Sakurai
Yukifumi Makino
Shuji Utsumi
Tetsuya Mizuguchi
Shiho Miyaoka
Yuka Saito
Nobuhiko Shimizu
Atsuo Naruto
Saeko Takaoka
Megumi Takatani
Tomoko Wake
Gichi Ohtsuka
Masako Takayama
Takuya Fujimuma
Kei Sekine
Ken Ohtake
Takeshiba Mitsuoka
Radio Wada
Masataka Sakano
Kazoo
Type B7
Sagittarius
Rakutenmaru
Ubisoft 3rd Party US
Edit
Frank Hom – producer
Kenan Alpay – associate producer
Jay Cohen – VP of publishing
Vincent Minoue – third party editorial producer
James Regan – director of publishing
Arisa Furugen – manager of business development
Ramelle Ballesca – game evaluator
Sayuri Tanabe – localization coordinator
Ubisoft Marketing US
Edit
Danny Rutz – group manager
Erick Low – grand manager
Maya Kamath – PR manager
Josh Ostrander – production financing
Josh Taillon – production financing
Adam Zachary – production financing
Ubisoft QA/Compliance Montreal
Edit
Eric Tremblay – worldwide quality control director
Jonathan Moreau – Montreal quality control studio manager
Marc-Alexandre Plouffe – quality control studio coordinator
Olivier Dignard – lead compliance specialist
Roger Junior Chabot – compliance specialist
Jean-Sebastien Gauthier – compliance specialist
Laboratories Bug-Tracker Inc.
Edit
Antoine Carre – president
Paquito Hernandez – chief operating officer
Kaveh Masrour – QA supervisor
Andrew Lee – QA coordinator
Cybil Fournier – quality manager
Eric Hum – project manager
Matthew Kowalewski – assistant lead
Mathieu Pinsonnault – assistant lead
James A. Michaud – tester
Sean Lessard – tester
Phuoc-Dai Nguyen – tester
Julie Halle – tester
Jo Sakurai – tester
Vincent Groleau – tester
Stephane Prince – tester
Jean-Francois Martin – tester
Eric St-Onge – tester
Christina Verlinden – localization lead
Mathieu Picard – localization tester
Andre Biasi – localization tester
Raphael Leduc – localization tester
Hiroshi Goto – Japanese translator
Ad blocker interference detected!
Wikia is a free-to-use site that makes money from advertising. We have a modified experience for viewers using ad blockers

Wikia is not accessible if you've made further modifications. Remove the custom ad blocker rule(s) and the page will load as expected.