Tetsuguro Kusabi
Talk

0
987pages on
this wiki
Tetsuguro Kusabi

Kusabi Tetsuguro
Also known as
Peter Bocchwinkur
Nationality
Japanese
Family
Father of Toriko Kusabi
Occupation
Detective
First appearance
The Silver (1999)
Tetsuguro Kusabi (Kusabi Tetsuguro) is a character in the video games The Silver and Flower, Sun, and Rain: Murder and Mystery in Paradise. He is a High-degree Murder 2nd Division detective in the 24 Districts Police Department, as well as the father of Toriko Kusabi.
Peter Bocchwinkur
Edit
During the events of Flower, Sun, and Rain, Kusabi travels to Lospass Island where he disguises himself as a truck driver named Peter Bocchwinkur (ピーター・ポックウィンクル, Piitaa Pokkuuinkuru). Kusabi, as Bocchwinkur, acts as an agent sent by The Commission to meet with searcher Sumio Mondo and direct him to the Flower, Sun, and Rain hotel, where his services have been hired. Bocchwinkur takes some offense to being called a broker by Mondo, explaining, "I just...grease the wheels." The two agree on Bocchwinkur receiving $5,000 of Mondo's payment for his mediating, after which Bocchwinkur drives Mondo to the hotel and goes his own way.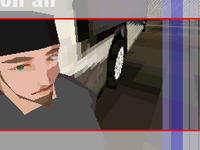 In the final chapter of the game, Mondo boards an airplane to leave Lospass, where he encounters Bocchwinkur, the only other passenger on board. During the flight, Bocchwinkur recognizes Mondo as another incarnation of Sumio Kodai, who he had been searching for, prompting him to reveal his true identity as Tetsuguro Kusabi, and Kodai's former partner from the Felonious 2nd Division.