This article or section contains information about a video game or product unreleased outside Japan.
If you are fluent in Japanese or are otherwise knowledgeable about this subject, please help expand this article.
The 25th Ward: The Silver Case (シルバー事件25区; also known as The Silver Case: Ward 25) is an episodic mobile sequel to The Silver Case. The gameplay resembles the original game, albeit with a mobile phone's limitations and less interactivity due to the smaller screen and less powerful hardware.
The game features three different view-points: #Correctness, *Matchmaker and "Placebo.
Unlike the first game, the Heinous Crimes Unit are not investigating the crimes of Kamui Uehara but rather the crimes of another serial killer, "Kousuke Kurumizawa".
The game was originally released only in Japan on i-mode and Yahoo! Keitai mobile phones. During his "Punk's Not Dead" speech at the 2006 Game Developer's Conference, Suda announced that the game would be remade on Nintendo DS for worldwide release, but like The Silver Case's DS release, this was cancelled as Suda desired to remake the games instead.
Later, following the 2016 HD remaster of The Silver Case, Suda expressed a desire to remake Ward 25 as well. Because the mobile phones it was released on eventually became obsolete and no longer supported, nobody had the ability to play it, making it, in Suda's words, a "phantom game". At BitSummit, on May 20th, 2017, Grasshopper announced the remake with a trailer. This version of the game will contain new chapters as well as all of the original ones.
◆Correctness◆ -凶悪犯罪課編-
Edit
Correctness features Mokutaro Shiroyabu and Shinko Kuroyanagi(Black Willow) working at the HC Unit. Correctness also features Sumio Kodai and Sakura Natsume from the first game.
#00 Prototype
#01 new world order
Shiroyabu Mokutaro, Sakaki and Black Willow investigate a crime scene where a woman was murdered in her apartment. shocking developments ensue.
#02 good looking guy
Shiroyabu Mokutaro and Black willow visit the morgue. A man named "Kamijo" was found dead. It is believed he ingested a key vital to the Kamui case. Kamijo is believed to have committed suicide by poisoning his coffee after reciting an eerie speech about how he wanted to vanish and die while sitting at a cafe.
#03 boys don't cry
Shiroyabu is now acting alone ever since being declared missing after events of #02 "Good Looking Guy". He tries to withdraw funds from his account but his card cannot be used. He is being targeted by assassins and ends up traversing the 25 wards and more adverse conditions await him. Black Willow is promoted to work on this case all on her own and uses this to her advantage in pursuit of a certain man.
Transmitter digital man
Sumio Kodai and Sakura Natsume investigate the murders of Kuromizawa while facing his own internal demons. Sakura Natsume accompanies him for a short period of time. Shiroyabu Mokutaro finally meets the suspect the Heinous Crimes Unit is looking for, Kousuke Kurumizawa.
#05 electride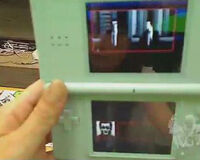 ◆Matchmaker◆ -地域調整課編-
Edit
Matchmaker features Shinkai Tsuki and Yotaro Osato.
"01 underground theater
"02 quiet cradle
"03 about nighthawk
"04 the lunar orbit
"05 moon over 25
◆Placebo◆ -モリシマトキオ編-
Edit
Placebo is the continuation of the story of the same name from the first game featuring Tokio Morishima. Morishima will bear witness to the demise of the 25 wards.
*01 NAGARE(Flow)
*02 TIGIRI(Contract)
*03 YOGORE(Filth)
*04 SIZUKU(Drop)
*05 MISOGI(Cleansing Ritual)
Release history
Edit
i-mode digital version – October 3, 2005 (EZWeb)
Yahoo! Keitai digital version – January 18, 2006 (Liveware)
Other names
Edit
Japanese – シルバー事件25区 (Shirubā Jiken 25 Ku), literally "Silver Incident 25 Ward."
Warning: This section might contain spoilers.
Kuroyanagi wears "Estée Lauder" perfume. This is revealed when Sumio Kodai makes a remark on how she smells.
"Matchmaker" refers to a previous game by Suda51 under the name of 'Fire Pro Wrestling'.
After the abrupt end of Genki's contract with Grasshopper, the game resurfaced on Liveware but without the 5th chapters of any of the three stories.
There were supposed to be 6 chapters for Correctness, Matchmaker and Placebo each but the team working on directing the game concluded the story in 5 chapters each.
Before the game was discontinued for mobile phones, graphically-enhanced versions of the games came out for the higher-spec phones that could handle heavier Java games.
Kuroyanagi and Shiroyabu are both named after plants; Kuroyanagi meaning "Black Willow" and Shiroyabu referring to a particular camellia bush that is covered in white blooms during their flowering season[source].
The first victim of *02 Quiet Cradle is killed by one of his crazed fans using a drug named "Bloody High". This might be an easter egg in reference to the drug in the first episode of "Cowboy Bebop" named "Bloody Eye" which is stored in a similar container.
External links
Edit
Official
Official website (Website down. Liveware's website went down after the fall of paid/service mobile phones. Liveware was chosen as the main delivery source for this game after the contract between Genki mobile and Grasshopper came to an end.)
News
References:
Ad blocker interference detected!
Wikia is a free-to-use site that makes money from advertising. We have a modified experience for viewers using ad blockers

Wikia is not accessible if you've made further modifications. Remove the custom ad blocker rule(s) and the page will load as expected.